All are invited to join in the weekend parade action!
They both start at the corner of G and 7th Streets at 1 pm.
All Species Parade – Saturday at 1 pm 
To participate in this year's parade, meet in the Cal Poly Humboldt parking lot at 12:30pm on Saturday. Bring a costume, mask, make-up, sign, banner, or some other way to celebrate! Bring friends, family, or co-workers. Local groups can match in the same species to represent their organization. Make a mask or costume pieces at our free upcycled craft zone, located at the corner of 8th and G Sts.
Arcata Playhouse staff will be present and at 1 pm will lead the parade in a march around the Arcata Plaza.
Mask-Making and Creature-Making Workshops
Free workshops will be held to make masks and costumes. Artists will be available to help you bring your vision to life!
Want to get involved with the All Species Parade drummers? Contact Jesse Jonathan at music@northcountryfair.org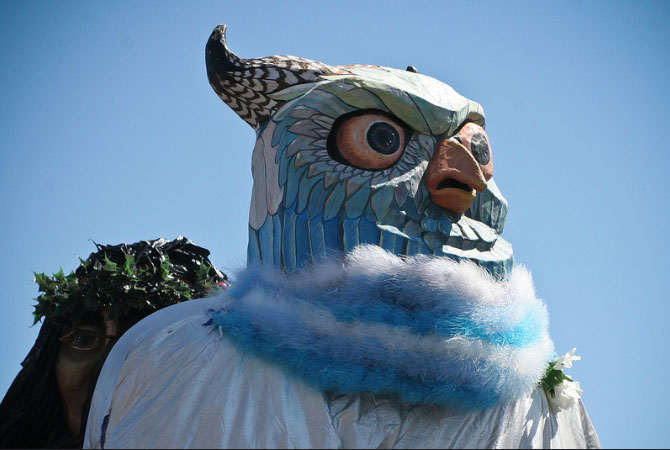 Samba Parade – Sunday at 1 pm
Want to join in the parade?
Come drum with Samba da Alegria – Sundays from 4-6 pm at the D St. Community Center.  Info: samba.arcata@gmail.com
Take Brazilian Dance – NCF Parade Class with Live Drums – Thursdays from 5:30-7 pm at the Arcata Community Center. Info: alegriaparade@gmail.com