Thank you all for making the 2018 North Country Fair radical, as we honored the theme "Resilience"! 
Join us in 2019 on September 21st & 22nd!
A Humboldt County tradition since 1974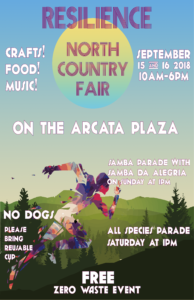 We celebrate and advocate for a healthy environment, cooperation and community, a vibrant alternative economy, and justice for every person and all forms of life.
__________________________________
Click here to read our statement on removing the statue of McKinley from the Arcata Plaza.
__________________________________