Thank you to everyone that came out for the 2017 North Country Fair!
Join us on September 15 & 16, 2018!

A Humboldt County tradition since 1974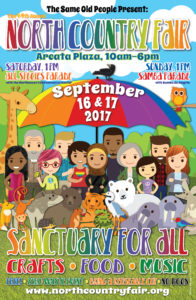 North Country Fair has been declared a A Celebration of Sanctuary For All. The two-day event, features local crafts and foods, plus  music and entertainment, but with a message for the present times.
The North Country Fair, like many of the town's oldest institutions and businesses, was founded by people who came here seeking sanctuary, and by those local folks willing to provide it. A Proclamation that has been issued by the City Council recalls that "the City of Arcata and The Same Old People, sponsors of the North Country Fair, have worked to foster a cultural and political refuge that has provided sanctuary for threatened humans as well as flora and fauna."
The North Country Fair takes place annually on the third full weekend in September on the Arcata Plaza. This free and family-friendly festival features 170 art and craft vendors, three music and entertainment stages, local food booths, activities for kids, and a daily parade at 1 pm. The All Species Parade will take place on Saturday. The Annual Samba Parade lead by Samba da Alegria will take place on Sunday at 1 pm and always promises to be a highlight of the Fair.
The North Country Fair has been leading the way in Zero Waste Event efforts, inspiring other events locally and regionally to join the reuseable and refillable revolution. We divert a large amount of festival waste from the landfill.
The North Country Fair is brought to you by The Same Old People, a nonprofit group of community members dedicated to presenting this arts and crafts, community-centered festival for years to come.